HOW TO REACH NAPLES
Capodichino Airport, 7 km northeast of the city centre, is southern Italy's main airport, linking Naples with most Italian and several major European cities, as well as New York. Serviced by a number of major airlines, including Alitalia and British Airways, the airport also hosts a number of low-cost carriers. Among the latter is Easyjet which connects Naples to several European cities, including London, Paris (Orly) and Berlin.
http://www.portal.gesac.it/portal/page/portal/internet
Getting around Naples
There are different types of tickets (biglietti) for buses and metro lines.
One Way: € 1,00
One Hour and half Ticket: € 1,50
Daily Ticket: € 3,50
They can be purchased at Tabacchi (tobacco shops) or newstands.
You must validate your ticket as you enter the bus or train station when using it for the first time. Having a ticket that has not been validated is the same as not having a ticket at all. Yellow validation machines are not always obvious - you may have to look for them. Inspectors regularly stake out the connections between stations to make sure that travellers have valid tickets. Having an unvalidated ticket will get you a spot fine of 37-100 euro.
Useful transit hubs are Piazza Garibaldi for trains and buses and Aereoporto Capodichino, the main airport for Naples. Most bus and trolley lines go to the main Garibaldi/Napoli Centrale railroad station, and many go past P.za Plebiscito (Castel Nuovo, Royal Palace , Opera House).
The Metro is currently being extended to better serve the historic area.
At present, two metro lines depart from Piazza Garibaldi (under the Central Station). The line 1 (trains every 8 minutes) goes to University, Toledo, Piazza Dante, the National Archeological Museum, and then up the Vomero Hill, while the
line 2 (trains every 12 minutes) goes from Garibaldi train station westward to Pozzuoli, through Chiaia, Mergellina and Fuorigrotta (San Paolo Stadium).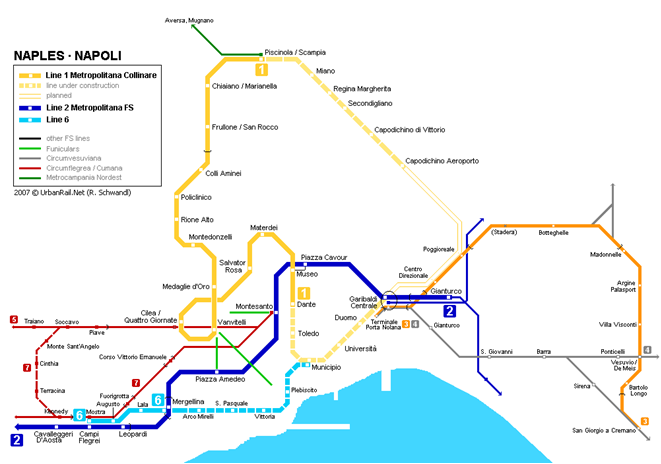 Another transport option is the funicular lines, there are three lines running from historic center to the Vomero Hill, and one line running from Mergellina to Posillipo hill. A funicular is basically two special rail cars, each attached to opposite ends of a long cable, use for climbing and descending hills.As one goes up hill, the other goes down, and they cross in the middle. Three of these lines run from the hilltop Vomero neighborhood to various parts of downtown; the fourth runs from the bottom to the top of Posillipo. The funiculars can be a time-saver. For example, take the funicular from near the Royal Palace (up Via Toledo about one block) to Vomero, then walk a couple blocks to the other funicular station and go downhill to the Metro stop — easy access to the Phlegrean Fields, Mostra d'Oltremare, Pozzuoli, or even downtown Naples.
You can reach Sorrento , Capri, Ischia and other islands by boat from the Molo Beverello Maritime Station at the foot of P.za Municipio. Tickets can be purchased on a walk-up basis. Multiple companies and boats depart each day about every 30 minutes, subject to seasonal availability.
You can reach Pozzuoli and the volcanic Campi Flegrei area (sandy beaches, lakes and archeological sites) by Cumana commuter train, that departs from Montesanto every 20 minutes.
You can download the App Giranapoli, for IOS and Android to see the lines, stops, waiting times, etc.
TAXI
You can use one of the following numbers to call a taxi (the Italian country code is +39):
Radiotaxi Napoli: 081 5707070
Radiotaxi Napoli: 081 5564444
Radio Partenope: 081 5560202
TAXI URBAN RATES:
From/to Capodichino Airport to:
Seafront Hotels and Centro Congressi: € 23,00
Beverello Harbour: € 19,00
Municipio Square: € 19,00
Central Station (Garibaldi Square): € 15,50